We provide excellent legal services with a focus on business, trade and dispute resolution. Our footprint of more than 30 years in the local market has positioned us as leaders in the practice areas and sectors of our expertise.
Our multidisciplinary team of lawyers has a solid background, which allows us to provide effective and efficient solutions to the needs of our local and international clients.
HISTORY
With a deep entrepreneurial spirit and identifying the needs of a Chile that was opening up to the world, three lawyers, Michael Grasty, Alejandro Quintana and Arturo Majlis, founded Grasty Quintana Majlis in 1987.
Today, and maintaining the same values that we started with, the Law Firm has consolidated. This has been possible thanks to excellent work, a personalized service and the confidence of our clients, whom have grown and developed throughout the years, together with us.
ACCOLADES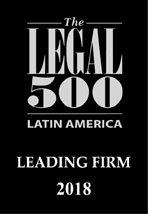 Personalized consultancies
We are proactive and committed, enhancing our multidisciplinary experience with effective management, obtaining the best possible result for our clients.
Strategic Overview
Beyond the strictly legal, we stand out for providing a different and daring approach to contribute to the key aspects of our clients' businesses and projects.
Diversity
We bet on a team of diverse people, trained at the best universities of Chile and the world, combining different capacities, talents and recognitions.